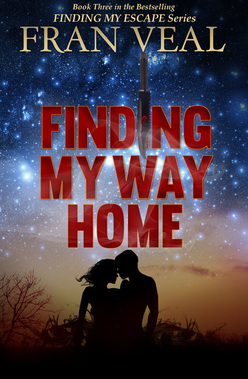 I have a confession to make. I know I promised I'd have Finding My Way Home finished in 2014. It didn't happen. In fact, I haven't done a lot since then but breath. You see, I was in the middle of writing the story when my mother was diagnosed with stage four cancer.

Some of my fans know I wrote the first novel in the series, Finding My Escape, the month after my father passed away in 2010. When my mother got sick - well - it just knocked the wind out of my sails. My mother was the first person to read Finding My Escape. She did the first edits on books one and two. When I gave her what I'd written on Finding My Way Home, she tried to read a few pages, then handed it back to me saying it was just to hard to see the words on the page.

I was crushed. I set the book aside, for the most part, to take care of her. We lost her this February. I have picked up the book and started writing again, but it hasn't been easy. I know my mother will never read it.

But I wanted to let you know, I'm ready to get back to it, and hopefully, I'll have the book out by the beginning of 2017. I owe it to my fans. In the mean time, I'd love to know your thoughts. What do you think should happen to the characters of Hannah and Matt? What about Jonathan Larson? Does he deserve to live?

Please leave a comment and let me know.

By the way, I want to thank reader Rachel Amov. She left a comment on an earlier blog which my web service seems to have lost. Rachel, if you see this, the book is on its way.